An Introduction to The Alkimista Four Elements
The 4 Elements Essential Oil Set
The 4 Elements Set is a toolbox of special scents, symbols, and words that assist us on our journey of connection, healing and transformation.
As humans, we are inherently divine, connected and perfect, and all we search for is already here, the resources we need are inside of us. Babies are not afraid to ask for what they want, to crawl and take their first steps towards the unknown and what inspires them, but then we grow, we forget, we get conditioned on how we should behave, who we should be, what we should think.

Somehow, we forget about the beauty of simplicity and intention and we just start living day by day thinking that our reward for our pains and struggles lives in the future somewhere.
The 4 elements set arrived as a channelled message of the need to bring the power of INTENTION back to our lives, the magic of INSPIRED action and the beauty of CONNECTION not only to self but to all that is around and inside of us. To remember the FLOW of the seasons, the cycles of life, and the elements of nature.
Essential oils are a power of nature as they capture the essence of flowers and plants that can help and support us in numerous ways, it is almost as if we can access that power in a bottle. We believe that this gift from mother earth must be honoured and respected, that's why we chose for Alkimista to bring the magic of pure and organic essential oils.
The first element is WATER which is the element of emotion and wisdom and it has been matched with the word and energy of PEACE (Lavender), which assists us to let go of the pain and regret of the past, and the worries and anxiety for the future, by bringing us back in the present. The present, this moment in time, where we are alive and everything is well. It is in the now, that we can truly feel grateful for life, and savour that love that is inherently inside of us, available to be accessed at any time. It is in that feeling of peace that we can start to gain AWARENESS of who we are and what is important to us.
EARTHis the element that has been associated with the Word and Energy of awareness. Connecting to the Earth element (Ylang-Ylang) supports us in feeling grounded in this reality, in this world, and able to see beyond the constructs of society, is the element of potential and transformation but also of stability and stillness. It reminds us of being aware that we have the power of creating our own magic every day, no matter how crazy this life can seem.
To remind us of savouring the little moments, the rituals and moments that reconnect's to what sparks our joy, to what sets our soul on fire. The element of FIRE, with the beautiful essential oil of orange sweet, has been set with the WORD and intentional energy of PURPOSE. Often, we dwell and struggle with finding what our purpose in life is, but if we stop for a moment and we listen and pay attention to the clues and synchronicities it almost reveals itself to us.
When we do something that makes us excited, happy, gives us that sense of flow no matter how simple or difficult it may be, the time passes in a tick, we lose the concept of time as we know it, we feel satisfied and fulfilled… well, that's a pretty good sign that whatever that thing is, surely is part of our purpose, part of what our soul recognises as part of us, where we almost feel "at home" no matter where we are or what it takes to do it.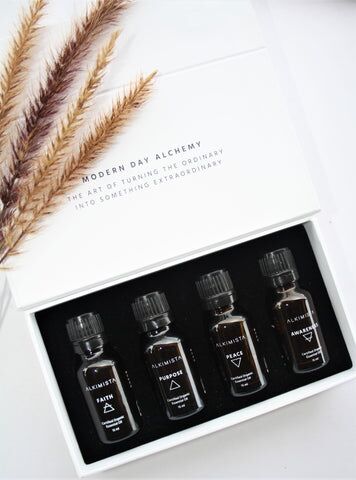 Fire is dynamic and fuelled by passion, it is the element of strength, fullness, action and life force, a lot like that beautiful orange that has been growing under the summer sun.
Last but not least we have the element of AIR representing creativity and new beginnings. It has been set with the intentional energy of FAITH, this helps us connect back to us. We know that we are part of all that is, and with that, we have the ability to connect to all those signs and clues around us that will support us on our journey. That "something" or "someone", that higher power is here with us and for us any time. Faith supports us in our pursuits to growth, contribution and evolution. The uplifting scent of Bergamot will bring your faith alive while soothing anxiety, and increasing optimism.
In history and throughout the ages triangular symbols have been used to represent the elements by Alchemists. Our intention at The Modern Alkimista is that these symbols, words, energies and scents will bring the magic of intentional living in your everyday life.
If you are looking for Australian certified organic essential oils to deepen your self-care and intuition and ritual practices, Alkimista essential oils are the perfect choice.